Whitewater Rafting along the Klong Lha ( Lha Canel ) is one of the most popular activities in Phang Nga Province. But the program is operated from Phuket. The exciting tour can be done all year round with the difficulty at level 3-4 in the rainy season and descends to level 1-2 in the dry season.

Step back to our unspoiled natural wonderland and enjoy our second to none adventurous experience. The day starts with a scenic drive to the Tone Pariwat Sanctuary Station, a beautiful place covered with gorgeous vegetation in Phang Nga province then, 4WD drive to explore the area's beauty before relaxing in a waterfall. Our highlight is the white water rafting which take you to get the most exciting experience in the safest way. This is one of the best tours you shouldn't miss.
Itinerary : Day Time 08.00 am. - 17.00 pm.

08.00 am.

Pick up from hotel and transfer to Phang Nga Province.

10.00 am.

Short stop at changing point to move into local Song taew vehicle then drive to Tone Pariwat Wildlife Sanctuary.

10.15 am.

White Water Rafting Session

11.00 am.

Guest assemble at Rafting station to attending the safety briefing before commencing the White Water Rafting, we will take you to our exciting white water rafting, 4-5 PERSONS PER RAFT, with experienced 'captains' who will ensure you will reach and know what is EXCITEMENT in the safest way. (Life jackets and helmets provide for your safety).

12.00 pm.

Enjoy Lunch.

13.00 pm.

Jungle Walk Session to Waterfall.

14.00 pm.

Refreshment Break and depart from Sealand Camp to Phuket.

15.00 pm.

Return back to the hotel.

17.00 pm.

Arrive to hotel.


Tour status: Available instant confirmation.
Type of tour: Join on tour.
Duration of tour: 9 hours from approximately.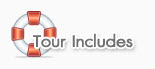 - Round trip land transfer by A/C vehicle & local truck.
- English Speaking Guide.
- Lunch.
- Activities, mentioned in the itinerary.
- Professional staff who give assistance during rafting.
- Introductory paddle center.
- Admission Fee and Insurance.


- Inform our guides if you cannot swim and have any personal illness such as heart disease and epilepsy etc.
- Trip is not allowed for pregnant women, handicapped or those who are shorter than 120 centimeters
- Carefully listen to guides explaining the procedure before starting and obey your paddle guide throughout a whole trip.
- Ensure all life jackets and safety helmet are all worn until the rafting trip is over. If any of them cannot well-suited, please inform our guide to change
- A proper sportswear that can get wet MUST be worn before joining the RaftingUnless our guide agrees that you wear accordingly, you will not be allowed to participate the session and our company will not refund all excursion fee.
- Alcoholic beverages and smoking is prohibited before and during the rafting trip
- Sandals and slipper is not allowed to be worn during the rafting trip.
- Lock your feet in the right place all the time while floating with the cataract and keep paddles entirely covered if you do not want to row them. No teasing each other during the rafting trip and obey your guide throughout a whole trip.


- Free transfer from hotel in Phuket and operated daily day
- Free transfer from Khao Lak & Krabi BUT operated on MON, WED, FRI ( 3 Days /week ) and minimum charge 4 pax


- Non-slip Shoes
- Sunglasses
- Hat
- Sun Tan Lotion
- Spare T-shirt and shorts
- Beach towel